Editor's Note: The Year that Wasn't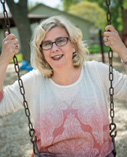 In February 2020, I was already planning the summer wall display in our children's library room—I was planning on having a large pair of glasses with "20/20 Vision!" You know, perfect vision looking ahead to what a great year it would be!
We know how that turned out. Over a year and a half ago, our library staff shut our doors and was told we would have to shelter in place for about two weeks. If only.
As I write this in May, and hopefully by the time you read this later this summer, the world will have started looking a bit more "normal," whatever that has become. I wish that wherever you are you'll be able to look forward to 2022 with positive vibes, a sunny outlook, and a maskless face.
Summer reading/learning will once again this year look different, but many kinks have been worked out making virtual programming a bit more seamless and enriching.
We hope CAL has been able to give you some ideas for your library during this challenging time. And keep sharing your library stories and photos with us; we'd love to continue hearing from you as you emerge from this unprecedented year.
Enjoy the many columns contributed by ALSC committees in this issue—I'm thrilled to have such engagement to show how hard our members are working. &
Refbacks
There are currently no refbacks.
© 2023 ALSC