Chapter 4: Instant Messaging

Michael Stephens

---

Abstract

What can social software do for your library? Library staffers like the ones at Ann Arbor District Library (AADL) in Ann Arbor, Michigan, can tell you. "Just a brief look at our Director's Blog will illuminate the fact that the blogs promote a constant two-way dialogue between our director, Josie Parker, and the public," notes John Blyberg, who works at AADL and authors Blyberg.net. "[You can also] take a look at some of AADL's other blogs that are staffed by some very clued-in, bright minds," he adds.

AADL has realized real benefits of social-software use—a four-branch public system with 46% of its district-population served holding library cards, it has not only experienced an increase in the number of online visitors, but these days the public library is also boasting more than 20,000 registered users utilizing its Web site for library-related interaction and services. Incorporating such tools as blogs and RSS feeds, AADL's Web portal also recently garnered accolades from the Library Administration and Management Association (LAMA) in its 2006 Best of Show competition (Best of Show/Winner, Web Page/Home Page, $6,000,000+ category).

AADL is just one of many libraries making patron/user inroads with Web 2.0 tools and also is just one of many cutting-edge libraries discussed in Michael Stephens's July/August 2006 issue of Library Technology Reports, "Web 2.0 & Libraries: Best Practices for Social Software."

"Some see…Web 2.0 as a set of ever-evolving tools that can benefit online users," notes Stephens in the report's introduction. "With these tools, users can converse across blogs, wikis, and at photo-sharing sites…via comments or through online discussions… Some libraries and librarians are involved in creating conversations, connections, and community via many of these social tools. But it may be time for more librarians to explore how these tools can enhance communication with users…"

Among the (virtually free) social software tools Stephens examines in his report:

Weblogs (blogs)
Podcasts
RSS feeds
Instant Messaging (IM)
Wikis
Flickr

Not only does Stephens present in-depth discussion of the above-listed technologies, he also provides a plethora of library social-software use examples—from AADL's blog-based site and Kankakee Public Library's Podcasts and Streaming Media to the Kansas City Public Library's innovative use of RSS feeds in many of its subject guides, to the dedicated librarians creating wikis as user-centered tools for everything from best practices for libraries to the Ohio University Libraries BizWiki, a business resource created by librarian Chad Boeninger.

About the Author

Michael Stephens (MLS, Indiana University) has spent the last fifteen years working in public libraries as a reference librarian, technology trainer, and manager of networked resources. This fall, Michael will join the Graduate School of Library and Information Science (GSLIS) at Dominican University, River Forest, IL, as an Instructor. In 2004, he was awarded an Institute of Museum and Library Services–funded fellowship for the University of North Texas IMLS Distance Independent Information Science Ph.D. Cohort Program to study libraries, librarians, and social software. He is currently writing his dissertation. Active in the American Library Association, he has presented at library and information venues across the country as well as internationally. Michael is well-known for his popular Tame the Web Blog, he writes for the ALA TechSource Blog, and he tours with Jenny "The Shifted Librarian" Levine for the Social Technologies Roadshow. In 2005, he was named a Library Journal "Mover and Shaker," and he served as a scholar at the Chicago Public Library's Scholar in Residence program. He also has written for Library Journal and co-authors a dept. in Computers in Libraries with Rachel Singer Gordon. He resides in Mishawaka, IN, and spends as much of the summer as possible in Traverse City, MI.
---
"IM is user-centered and builds relationships with library users."

—Aaron Schmidt, Walking Paper, http://walkingpaper.org/212
---
Part 1: Instant Messaging in Libraries
Instant messaging, commonly referred to as IM, is real-time, synchronous conversation between two people via the Internet. Features of the various messaging clients, none of which can actually communicate with each other, include:
Buddy Lists: a listing of your trusted friends, colleagues, and family members;
Chat Window: a window where chatters input text and press enter or send; and
Status Indicator: a notation of location or current state of being, such as "In My Office" or "Out to Lunch" (this is known as an "away message" as well).
Other features might include file transfer and the capability for video chat or voice chat.
IM has been around for a long time in Internet years. Remember your America Online buddies you chatted with via dial up back in 1995? IM is still around and going stronger than ever. IM has also been dubbed a Web 2.0 tool because of its participatory, social nature. IM creates connections.
It is also a very popular tool! The AOL Instant Messaging Trends Survey reports:
Thirty-eight percent say they send as many or more IMs than e-mail [messages], and the younger users are, the more likely they are to favor IM. Two-thirds (66 percent) of teens and young adults (ages 13–21) say they send more IMs than e-mail [messages], up from 49 percent last year.
Meanwhile, 20 percent say they currently enjoy, or would like to try, making live voice calls to other computers, landlines, and cell phones directly from their IM service. Another 12 percent say they would be interested in an IM-based VoIP service that could replace their primary household phone line.1
Pew Internet and American Life also reported on IM and the age groups that use it in late 2004:
Forty-two percent of Internet users—more than 53 million American adults—report using instant messaging.
Within the instant messaging Gen Y (18–27 years) age group, 46 percent report using IM more frequently than e-mail. In contrast, only 18 percent of Gen X-ers (28–39 years) instant message more often than e-mailing. In older generations the percentage is even smaller.
Twenty-one percent of IM-ers in each of the Gen Y and Gen X age groups log onto IM several times a day, followed by 17 percent of Trailing Boomers (40–49), 15 percent of Leading Boomers (50–59), 10 percent of Matures (60–68), and a mere 9 percent of the After Work (69 and older) age group.
Thirty-five percent, or the largest portion of those who IM for about an hour are Gen Y-ers. In contrast, the greatest percentage of instant messengers who IM for less than 15 minutes consist of Trailing Boomers (26 percent).2
The Pew Report on IM serves as a useful document to cite as supporting evidence for planning and implementing this service in libraries.
The #1 benefit of IM in libraries is it puts the library where traditionally hard-to-reach users already are, in a medium they're comfortable with, and in a way that's 100% free for the library.

Sarah Houghton, The Librarian in Black, http://librarianinblack.typepad.com/librarianinblack
---
Part 2: Implementing IM in Libraries
First, you and your staff members will need to determine a screen name and then register it at all three IM clients. SJCPL registered the screen name AskSJCPL at all three, and then followed up with AskSJCPL AV for audio-visual department-related reference. Screen names are registered through the Web at the chat clients' respective sites. Just input some basic information and create a name in each one by following the step-by-step directions online. This step is FREE!
Secondly, you'll need to train and encourage staff members to interface via IM from their desks. Aaron Schmidt, (from Thomas Ford Memorial Library in Western Springs, Illinois) and I reported in Library Journal that IM "training can be similar to sessions created for virtual reference: highlighting how to insert URLs, predefining text messages ("please wait while I get that answer"), and emphasizing getting comfortable with the unexpected." They urged librarians to dive in and "play out a reference scenario" as a method of getting comfortable.6
Basic IM training competencies might include:
Logging in to the application;
The basics of chatting via a chat window with definitions;
Inserting URLs and sending files; and
Applying reference interview skills to the IM inter-action.
Your library will want to make IM part of your technology plan and include it in your policy manual. Make sure it is valued as a reference service. At SJCPL, IM is integrated into the flow of reference services at the main library-reference desk. Two or three librarians staff the desk and answer questions in person, via the phone, and via IM. E-mail reference is done in the workroom on a dedicated computer. I actually helped rewrite part of our policy manual during my final months at SJCPL, and IM is included as a form of reference. It is third in the breakdown of how the librarians take questions: in person first, followed by phone, then IM.
You'll also want to make it part of your staff-development plan. Staff members should be comfortable with IM applications, and they should use it at their desks to improve workflow. Administrators should as well; this sets the tone that IM is important in the library, that IM is not just the domain of younger librarians.
A new service such as IM will thrive if staff is behind it, so have a plan to "Create Staff Buy-In." If they have been involved in planning, had training, and a chance to play and understand where IM falls in the information service provided by your particular library, staff members will understand the importance of logging in and performing good reference. Beyond IM, buy-in is very important for all technology projects in libraries.
Educate all staff members about the service, and make sure everyone on staff knows that the library is going to offer IM reference. In addition, it will be important for your staff members to "learn the lingo"; if you are reaching out to teens, students or young adults, you may want to spend some time learning the vernacular of IM. Many Web sites offer glossaries of IM and chat lingo so you can decipher what BRB or GMTA mean! (BRB=Be Right Back and GMTA=Great Minds Think Alike)
Why Are We Doing This?

A few months ago the Reference staff at SJCPL trained the librarians who would be using IM at their service desks. Katie, who was doing the particular session I heard about, asked the group: "Why are we doing this training?"

"IM is cool," someone said … "IM is so hot right now," said another (who may read my blog too much!)

"Nope," Katie said. "We are doing this because it is a way to reach a good segment of our users…." She went on to cite some of the recent articles, studies, and surveys out there that make the case for IM.

"Why are we doing this?" may be asked more than you think at your library as more and more projects center around technology. If the question is there, you may be missing a perfect opportunity to create staff buy-in for such projects.

TTW Post on Staff Buy-In, http://tametheweb.com/2005/10/ten_steps_to_insure_staff_buyi.html
---
Part 3: Best Practices for IM in Libraries
Promote your screen name and service. It also needs to be publicized and promoted just like any library service or program. Sometimes I think we forget to promote our technology-related or Web-related initiatives because promotion seems to be inherent in the Web. Personally, I'd like to see a library put up a billboard or bus poster that says: "Have a Question? IM Your Librarian."
Add your IM name to your business cards, signature files, and Web portal. Promote your name every way you can. Add it to your Web presence, including your OPAC pages and contact information. Let staff members have their IM names on their business cards.
Create a standardized, consistent naming convention for your IM screen names. Take a look at the libraries offering this type of reference. Note the form of the name. At SJCPL, we registered AskSJCPL at all three clients.
Use away messages effectively. Some libraries that IM set up an automatic away message: "The librarian will be right with you," or a similar sentence for incoming questions. Create a few choices and use them for times you might be working on another question, searching the stacks, or away from the desk.
Use online sources only if the best answer can be given from them. Sometimes it is best to ask the IMing user to come to the library to pick up materials or do more work with the librarian in person. If the answer is only in a printed resource, offer to scan it and send it via e-mail, or hold the book for the user to come in to the library.
---
More Resources on IM
AOL Instant Messenger (AIM): www.aim.com
AskSJCPL: www.libraryforlife.org/asksjcpl/asksjcpl.html
Edifice Ref's Trillian Training: http://edificeref.info/?p=71
Fire: http://fire.sourceforge.net
Fire Training: http://tametheweb.com/2005/05/more_im_training_materials.html
Gaim: http://gaim.sourceforge.net
IM SOS: http://tametheweb.com/2005/06/im_sos.html
IM Training at Tame the Web: http://tametheweb.com/2005/04/training_im_a_ready_to_go_modu.html
Library Success Wiki—Virtual Reference and IM: www.libsuccess.org/index.php?title=Online_Reference
MSN Messenger: http://messenger.msn.com
Sherri Vokey's IM at UNLV Post: http://blog.uwinnipeg.ca/schwagbag/archives/2005/06/iming_goes_live.html
Sherri Vokey's Training Modules: http://blog.uwinnipeg.ca/schwagbag/archives/2005/07/im_staff_traini.html
Trillian: www.ceruleanstudios.com
Yahoo! Messenger: http://messenger.yahoo.com
Instant Messaging & Text Messaging
Stephen Abram, "Twenty Reasons for Teacher-Librarians to Love IM," Multimedia & Internet@Schools 11 no. 4 (July/August 2004): 16–8.
Christina M. Desai, "Instant Messaging Reference: How Does It Compare?" The Electronic Library 21, no. 1 (February 2003): 21–30.
Sarah Houghton and Aaron Schmidt, "Web-Based Chat vs. Instant Messaging," Online 29, no. 4: 26–30.
Irene McDermott, "Text Messaging: E-Mail on the Go," Searcher 12, no. 9 (October 2004): 47–50.
E. Thompson, "Expertise Is One Click Away with Instant Messaging," KM Review 6, no. 4 (2003): 16–9.
---
Notes
| | |
| --- | --- |
| | |
| 1. | AOL's Third Annual Instant Messaging Trends Survey (2005), www.aim.com/survey (accessed June 5, 2006). |
| 2. | Eulynn Shui and Amanda Lenhart, "How Americans Use Instant Messaging," Pew Internet/American Life Project, Reports: Online Activities & Pursuits (September 1, 2004), www.pewinternet.org/PPF/r/133/report_display.asp (accessed June 5, 2006). |
| 3. | Gordon, Rachel Singer; Stephens, Michael. "IM=FASTER Virtual Reference on the Cheap!"Computers in Libraries 2006 April;26(no. 4):36. |
| 4. | Lee Rainie, "PIP Comments: The Rise of Cell Phone Text Messaging," Pew Internet and American Life Project (March 14, 2005), www.pewinternet.org/PPF/p/1060/pipcomments.asp (accessed July 11, 2006). |
| 5. | Guidelines for the Alexandrian Public Library (Mt. Vernon, Indiana) IM Reference Service, www.apl.lib.in.us/im.html (accessed June 5, 2006). |
| 6. | Aaron Schmidt and Michael Stephens, "IM Me," Library Journal (April 1, 2005), www.libraryjournal.com/article/CA512192.html (accessed June 5, 2006). |
Appendix 2: IM a Librarian, created by Darren Chase, SUNY Stonybrook Library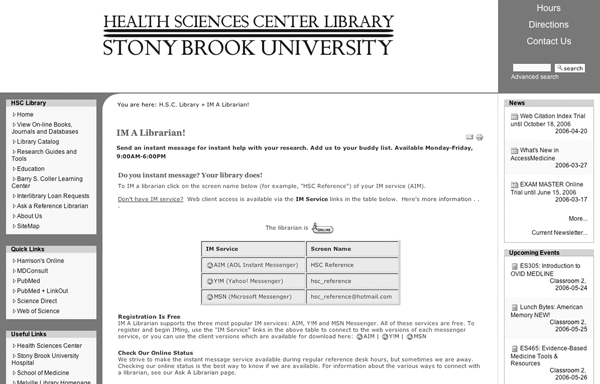 ---
Figures



[Figure ID:

fig1

]

Figure 15 

IM Chat Window






[Figure ID:

fig2

]

Figure 16 

IM Buddy List



---
Article Categories:

Information Science
Library Science



Refbacks
There are currently no refbacks.
Published by ALA TechSource, an imprint of the
American Library Association
.
Copyright Statement
|
ALA Privacy Policy