Published by ALA TechSource, an imprint of the American Library Association, Library Technology Reports helps librarians make informed decisions about technology products and projects.
Your purchase supports this publication and funds advocacy, awareness, and accreditation programs for library professionals worldwide.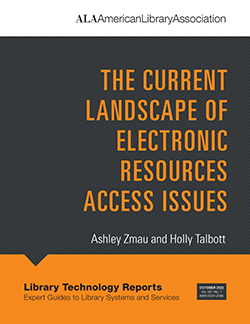 Vol 54, No 3 (2018): April

Open Access

Subscription Access
Privacy and Security Online: Best Practices for Cybersecurity, by Nicole Hennig
It seems that every day there is news of a security breach or invasion of privacy. From ransomware to widespread breaches of private data, the news is full of scare stories. Luckily, there are strategies you can implement and actions you can take to reduce your risk. You can learn to see beyond the hype of media scare stories and better understand what's worth paying attention to by following certain best practices. Using advice from security experts, this issue of Library Technology Reports (vol. 54, no. 3), "Privacy and Security Online: Best Practices for Cybersecurity," discusses the difference between possible threats and likely risks. Hennig discusses security best practices for password managers, backing up data, using public Wi-Fi, mobile devices, mobile payment systems, private browsing, social media, and more. The report provides advice on how to make your own security plan and concludes with ideas for sharing this information with library users and a bibliography of resources.  
Full Issue
| | |
| --- | --- |
| View or download the full issue | PDF |
Table of Contents