Published by ALA TechSource, an imprint of the American Library Association, Library Technology Reports helps librarians make informed decisions about technology products and projects.
Your purchase supports this publication and funds advocacy, awareness, and accreditation programs for library professionals worldwide.
As a subscription-based publication, Library Technology Reports will sunset with the December 2022 issue. After that time, it will be available for single-issue sales only.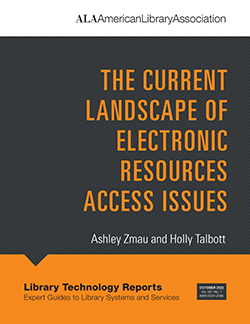 Vol 58, No 7 (2022): October

Open Access

Subscription Access
Library Technology Reports vol. 58, no. 7 (Octoer 2022) "The Current Landscape of Electronic Resources Access Issues," by Ashley Zmau and Holly Talbott.
In this issue of Library Technology Reports (vol. 58, no. 7), "The Current Landscape of Electronic Resources Access Issues," we discuss the current landscape of electronic resources access issues through the lens of the prevailing access tool employed by academic libraries: the discovery service. The report outlines the technical components through which library end users gain access to electronic materials through the discovery system environment and describes the common points of failure within them. The report also discusses the troubleshooting techniques and tools through which access issues are identified and diagnosed. The report closes with a discussion on new technological developments in library discovery and access, highlighting the new opportunities for access failure, as well as the initiatives aimed at mitigating these issues.
Full Issue
| | |
| --- | --- |
| View or download the full issue | PDF |
Table of Contents
| | | |
| --- | --- | --- |
| | Ashley Zmau, Holly Talbott | 5-5 |
| | | |
| --- | --- | --- |
| | Ashley Zmau, Holly Talbott | 6-13 |
| | | |
| --- | --- | --- |
| | Ashley Zmau, Holly Talbott | 14-21 |
| | | |
| --- | --- | --- |
| | Ashley Zmau, Holly Talbott | 22-29 |
| | | |
| --- | --- | --- |
| | Ashley Zmau, Holly Talbott | 30-33 |
| | | |
| --- | --- | --- |
| | Ashley Zmau, Holly Talbott | 34-37 |
| | | |
| --- | --- | --- |
| | Ashley Zmau, Holly Talbott | 38-38 |