The Story, the Teller, and the Listener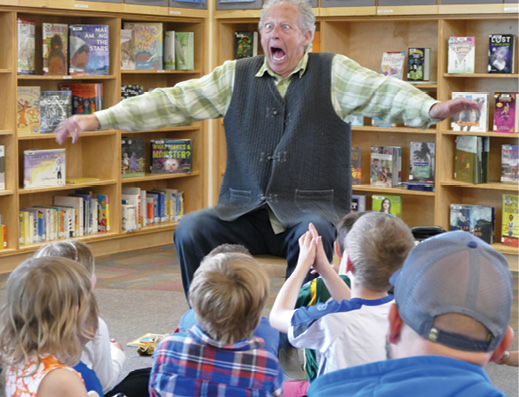 Students, faculty, and families are gathered in the library for a school-wide Tellabration, where kids showcase the folktales they have learned this semester.
With slightly trembling hands, Alexi rings the Tibetan bells that convene the performance. He's a third grader who rarely speaks, and if he does, usually mumbles. For most of the semester, he's been physically disruptive and often finds himself the object of his teachers' ire.
It was with some trepidation, then, that I let him join a group of tellers in the hopes of placing him in a more controlled setting that might let the rest of the class proceed with fewer interruptions.
Unfortunately, he lived up to his reputation. I could see that there was no way the group would succeed with him trying to learn a part. But I hadn't the heart to ban him.
"Alexi!" I say, I'm going to give you one of the most important parts of all. You will be the listener. The tellers need a listener."
Instantly his demeanor changes. He listens with rapt attention to his classmates through two more rehearsals.
On performance night, when his group takes the stage, Alexi pops out of his seat and joins them. I follow close behind and whisper nervously, "What are you doing up here?"
Surprised, he replies in a clear and confident voice, "I am 'The Listener.'"
Alexi, so often the outsider, has reminded everyone that the story, the teller, and the listener all have a part to play, and we are all in this together! &
Refbacks
There are currently no refbacks.
© 2021 ALSC