Editor's Note: Is It 2021 Yet?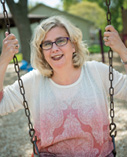 By the time you get this issue, 2020 will almost be over. (Insert big sigh of relief here!) Despite the challenges this year brought, librarians rose to the challenge—providing virtual programming, recommending online resources, providing curbside service, and reaching out in other creative ways to engage families. If anything, the year made us truly reflect on just how important libraries and librarians still are—even in an increasingly technological world.
As I write this, we're still in the throes of the pandemic, and we really have no idea when the tide will turn, but let's remain optimistic!
In our fall issue, I reflected on the things I missed during the pandemic. Here, I present a list of things I look forward to in 2021.
Singing "Baby Shark" loudly and proudly during storytime.
Welcoming back the snarky afterschool teens—both as volunteers and as reticent readers. They previously irked and provoked us, but we not-so-secretly really miss them!
Having a greater respect for people's hidden afflictions; you never know what's happening in a person's day, so kindness always rules.
Working on new outreach projects, such as the laundromat literacy mentioned in Liz McChesney's fine article in this issue.
Reading more graphic novels.
Entering my 19th year as editor of Children and Libraries.
Always trying to think—and share—good thoughts.
As Roald Dahl wrote in The Twits, "A person who has good thoughts cannot ever be ugly . . . if you have good thoughts they will shine out of your face like sunbeams and you will always look lovely."
Here's to more of those good thoughts coming our way in 2021! &
Refbacks
There are currently no refbacks.
© 2022 ALSC