Editor's Note: Not Just a Job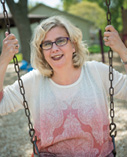 What does an editor and librarian do in her spare time? Read. Visit the library. Work the book fair at my daughter's school.
I'm so predictable. At least that's what my husband thinks. He's a salesman, so all he wants to do in his free time is avoid the phone—both incoming and outgoing calls—and play hard. Fishing. Golfing. Watching sports. In short, nothing related to his job.
He just can't understand why I would go anywhere near a library on my days off. Or why, when I'm surrounded by books all day, I would pick up a book for pleasure.
Perhaps you've been there too—explaining why your career is not just a job—it's a lifestyle. At least that's how I feel. I certainly didn't go into journalism or librarianship to become a millionaire; both, I feel, are truly callings. You really have to WANT and LOVE what you do, I feel, to do it effectively and make an impact.
It's easy to do that when you get to read books, play with kids, sing songs, dance with a donut (!!), invent games, and dress up silly as part of your job. Maybe everyone needs a dose of that in their daily lives.
It's not always possible or appropriate, I understand, but maybe just injecting a few moments of joy and silliness into everyone's day can make their job feel less like work.
Now, if you'll excuse me, I'm off to see if that Captain Underpants costume still fits . . . &
Refbacks
There are currently no refbacks.
© 2022 ALSC