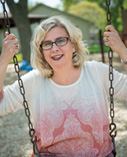 Editor's Note: The Year I Discovered Graphic Novels
As a book lover, I always thought it seemed blasphemous when I declared, "I don't like graphic novels." In truth, I really hadn't given them much of a chance. I always had assumed their format would be difficult for me to follow—sensory overload, of sorts.
Of course I had been familiar with their popularity in my library—most pre-teens had asked for them. It made reader's advisory a bit more challenging if I hadn't read any, so I finally cracked one open—I started with Roller Girl by Victoria Jamieson. The story really drew me in; I grew up in the 1970s, when roller derby was televised (and my parents let me watch it!). I was absorbed in the story, and by the time I was done, well, I guess I had read my first graphic novel!
I moved on to Fish Girl, illustrated by my fave of faves David Wiesner. While not as captivated by the story, I was drawn into the lushness of the atmospheric illustrations. And then, of course, I had to read the books I had long overlooked—but had been handing to patrons every day—Sisters and Smile by Raina Telgemeier.
But the book that may have hooked me for good was Be Prepared by Vera Brosgol. I loved her picturebook Leave Me Alone!, and the summer camp theme of her graphic novel was something I knew I could relate to. I was right.
I laughed. I winced. I reminisced.
I ended my year of discovery with Jarrett Krosoczka's Hey, Kiddo. Raw, authentic, and dark, it showed me the breadth of emotion that both graphic novels and memoirs can present and how they can expose an author and their thoughts. Amazing!
In short, I'm sold. I look forward to being better prepared to serve my patrons with books I can now heartily recommend from my own perspective. Just don't try to hook me on manga or anime . . . just yet! &
Refbacks
There are currently no refbacks.
© 2022 ALSC