Editor's Note: Creativity Abounds!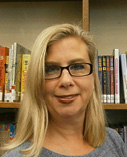 Film! STEM projects! Artistic endeavors! It was a thrill to read all the submissions this issue from some of the recipients of the ALSC Curiosity Creates grants sponsored by Disney. I was impressed with not only the scope of the projects, but how libraries embraced collaboration and truly put the money to good work.
These days, we all know that libraries are so much more than quiet receptacles offering books, and these articles illustrate that. Even without large makerspace areas, libraries find the ways to keep younger patrons curious and creative.
This issue embraces curiosity and creativity, but it doesn't just occur when libraries are handed grant monies—although that certainly helps. I hope you'll find some of the ideas presented here inspiring enough to try to replicate, or at least borrow from, in your library. Kudos to the libraries who shared their stories; thanks to them and many others, we can be proud of what our future generations may have to offer. &