The Last Word: I'm Late, I'm Late!
These little rabbits sure don't look late to any tea party! In fact, they look like they're having a great time, and that's on purpose.
These charming little bunnies, my pets Harry and Otto, take center stage in this photo—shot for a calendar project.
My co-worker and Children's Librarian Amy Holland and I are both members of the Youth Services Section (YSS) of the New York Library Association (NYLA) and members of the Publications committee, which is tasked with putting together a library-themed project to sell at each year's NYLA conference. Last year, we sold author notecards.
Amy had the idea for incorporating pets into the project, and when the Youth Services Section board requested a sample photo, we brought my rabbits on board. For the photo shoot, my husband, Jonathan, helped create the scene with Amy's husband, Arthur, who took the pictures while Amy held the lighting and I served as bunny wrangler! We hid some snacks in the tea cups to entice the bunnies toward the table.
We also put out a call for submissions from other NYLA and YSS members to contribute to the calendar with their animals either reading books or in a literary tableau. &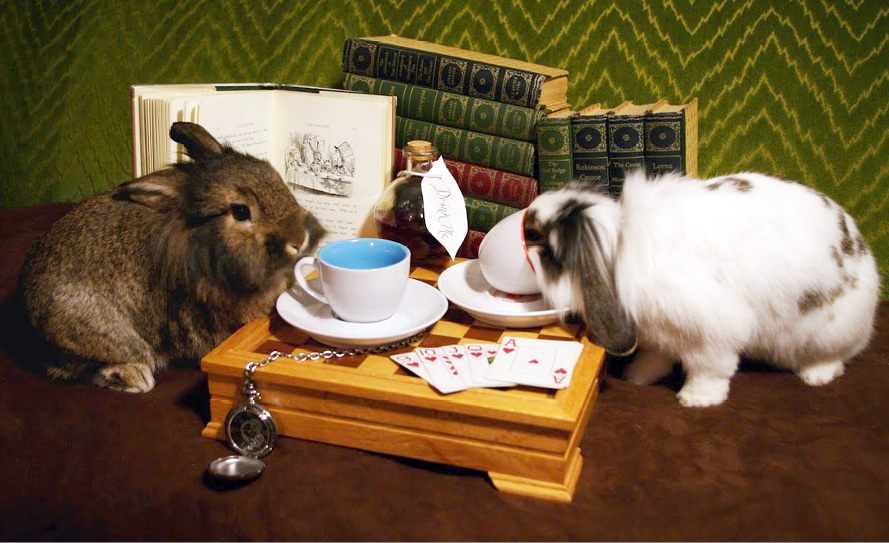 Refbacks
There are currently no refbacks.
© 2022 ALSC