Journal of Intellectual Freedom and Privacy is the official journal of the Office for Intellectual Freedom (OIF), an office of the American Library Association.
Vol 6, No 2 (2021): Summer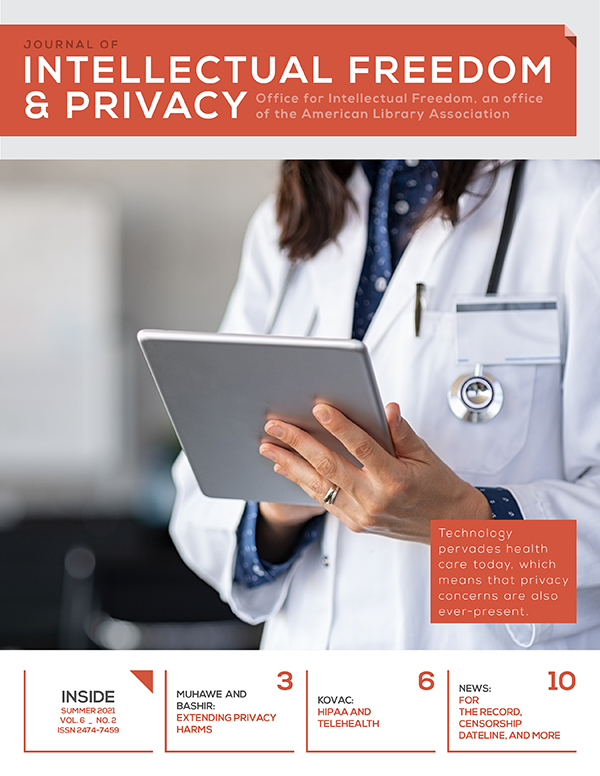 In this summer issue of JIFP, the commentaries focus on privacy and remark on people's relationship with digital platforms during the COVID-19 pandemic. This issue's cover of a doctor holding a digital tablet demonstrates that, during the COVID-19 pandemic, the use of telehealth increased exponentially. In "HIPAA and Telehealth: Protecting Health Information in a Digital World," author Melissa Kovac examines the Healthcare Information Portability and Accountability Act (HIPPA), from its enaction in 1996, to where it stands today with the popularity of telehealth and electronic health records. Kovac notes that telehealth services can be convenient and cost-effective, while also vulnerable to privacy and security breaches. "Health information is some of the most intimate information there is," writes Kovac, "and patients' right to privacy and the security of their data must be preserved, no matter what the technology." In the commentary "Extending Privacy Harms Toward a Non-Economic Perspective," authors Christopher Muhawe and Masooda Bashir explore data breach cases in the US courts and the requirement that victims must prove they have suffered an "injury in fact." The authors suggest a new approach that addresses privacy harms without having to prove economically quantifiable harm. 
Cover credit: Rido/Shutterstock.com